Exhibition "Magic artists of Kyiv and Ukraine"
06/18/2017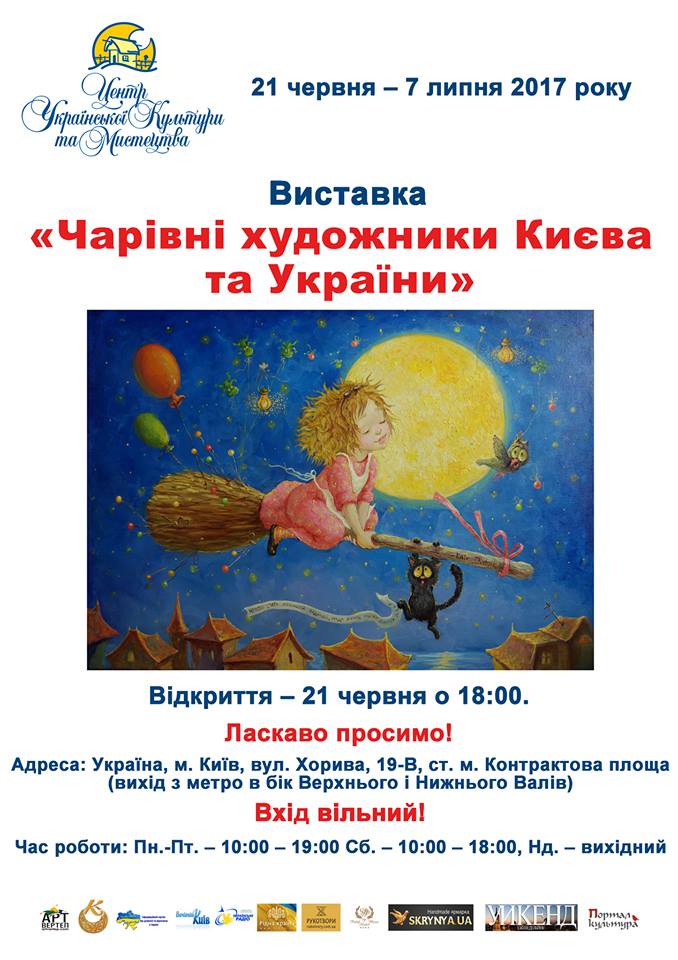 Friends sincerely invite you to the exhibition "Magic artists Kyiv and Ukraine", which will feature the works of artist Katya Dudnik and other talented artists.
Kyiv — a magical city, capital of Faith and capital witches. And Ukraine — enchanted land where, from the great Nikolai Gogol, few writers touch of mysticism and miracles.
No exception and our artists! That is why the exposition will include over 30 works of art on Ukrainian mysticism. But all of them — sincere, kind extremely colorful!
Also during the project "Magic artists Kyiv and Ukraine" (incidentally, confined ancient holy Midsummer), there will be girls divination, and a mermaid-Mavky and lisovychky and, of course, the famous Kiev witches who seemed still hovering over St. Andrew's descent, giving it a mystery. Here live the mystical city buildings and charming cat that walks Kyiv sights ... And held creative meetings with artists participating lecture and presentation of Lada Luzin!
Organizer: Lada Luzin, writer.
Sponsored by the Center for Ukrainian Culture and Art.
Location: second floor of the house Ukrainian Center for Culture and Art (m. Kyiv, st. Horeb, 19-B, p. M. "Marketplace" out of the subway toward the streets of the Upper and Lower Val), tel. (044) 425-12-66).
Hours showrooms:
Mon. Friday. — 10:00 — 19:00; Sat. — 10:00 — 18:00; Su. — closed.
Welcome to visit the exhibition,
free entrance!